BENEFITS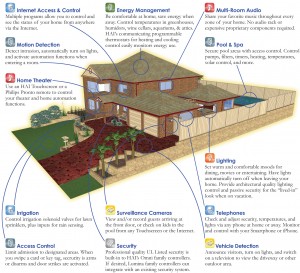 OUR SYSTEMS ARE COMPLETELY AUTOMATED.
Home and business automation has many forms.  It allows the security system, HVAC, lighting, and entertainment systems to work together in one package.  Things that you normally do manually are taken care of by the automation controls: a touch panel, a PC, or a keypad. Even remotely when you are away from home with a telephone or Smart Phone app!
GET TOTAL CONTROL OF HOME TECHNOLOGY AT YOUR FINGERTIPS.
Never come home to a dark house.

No need to change timers for indoor and landscape lights.

Control HVAC based on time of day or occupancy.

Arm and disarm your security system.

Control all the lighting in your house.
SCENARIO 1:
Imagine pulling into your driveway at the end of a long day.  The driveway sensor turns on the landscape lighting, allowing you to see the walkway to your house.  As you open the door the interior lights come on.  You disarm your security system and, at once, your evening interior light scene comes on.  Heating or a/c is turned on and your favorite music begins to play.
SCENARIO 2:
Imagine you are at the airport headed out of town for work or vacation. You suddenly realize that you forgot to arm your security system before you left.  No problem!  Just pull out your smart phone, access the special "App" installed on your phone, set your security for "Vacation" mode and now you are on your way.
Our home automation systems are designed to make your life easier, not more complicated.   Some home automation systems if not designed and installed properly can actually cause a "technology overload".   It doesn't have to be that way.   Custom Fit has the know how to develop "one touch" systems that are easy to use for everyone in your  family.  Even those who may think they are "technically challenged."
Some things that you can accomplish through home automation might blow your mind:
Mute the whole-house audio system when the doorbell button is pressed and then display the front door camera on a TV.

Mute the whole-house audio system when the phone rings.

Automatically turn on lights when you enter a room.

When you are not home, turn on outside lights when it gets dark, then turn on and off inside lights in order to give your house a lived-in look, varying the times that this occurs randomly from day to day.

Use a Wi-Fi enabled laptop, PDA, or webpad to monitor and control devices from anywhere in the home.

Use the same handheld remote you use for all your a/v equipment to also send commands to your system, such as "all lights on 2nd floor off", or to activate a lighting scene, or to lower the projector screen from the ceiling.

Turn off the A/C when any window is opened.  Turn it back on when all windows are closed, but only if it was turned off because of someone opening a window.

Give your cleaning service a unique security code that only works during certain times of the day and days of the week.  This code can also be logged so you know when the cleaning service arrived and left.

Display your music or movie collection on any TV for easy music or movie selection from any room.
Call (610) 469-1868 today for a free estimate on home automation.